Thanks to the recent little matter of an election, Twitter has really proved its worth as a reputable news stand; largely thanks to the embracing nature of the man who yesterday, was re-elected back into office for a second term. Barack Obama has welcomed Twitter with open arms from his first electoral campaign, and has really proved the site and its news influence over the last few months, and certainly the last day.
With Twitter receiving the first announcement of his win before he stepped onto the podium in Chicago to address the nation and confirm the victory. He tweeted moments before he took to the stand, "This happened because of you. Thank you."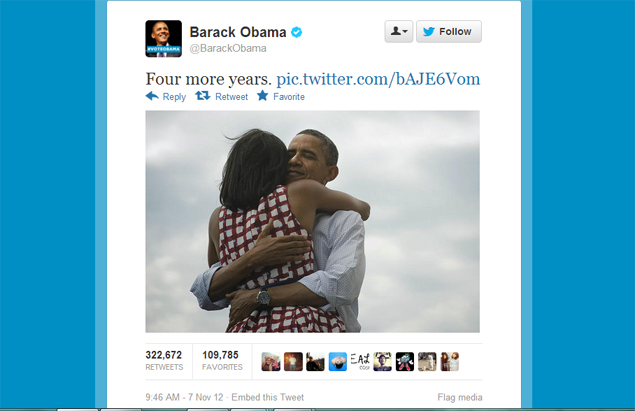 Both electoral parties took to the Twitter platform to drum up support and keep an eye on the others online tactics. With this being set as one of the closest to call elections to date, Twitter played a large part in keeping exposure to a maximum and a debate of interest with followers and supporters online. Tuesday night saw more then 31 million election themed tweets being sent, making this the most popular tweeted event in US political history ever.
Platitudes from celebrity followers and supporters came in thick and fast form the likes of Lady Gaga, Cher and Will Ferrell, all taking to the social media platform to congratulate and share their support for Obama. All in all, not only did the US election shape up to be one of the closest to call to date, but it also solidified the fact that Twitter is a reputable and highly sort-after platform for news and current events in real-time. Barack Obama not only gained the win over rival Mitt Romney and was re-elected back into the White House for a second term, but her also generated the prestigious title of most popular tweet EVER! The three worded tweet was re-tweeted over half a million times in just four hours. This surpassed the previous owner of the title of most re-tweeted, Justin Bieber, with just over 223,000. The understated tweet simply read "Four more years."
Tags:
twitter